'Britannia Farms Downton Abbey' – Abbey
Abbey is our beautiful AKC apricot colored Standard Poodle for our Goldendoodle breeding program. Abbey weighs 47lbs.
Abbey has passed OFA hips and elbows, she is also clear on OFA heart and eyes. Genetic testing through Embark showed Abbey is clear/negative on all 172 genetic tests they do including diseases common in Poodles,  VWF, prcd, DM, MH, CM, NEwS, MAC, OC and GM2. This is wonderful news! Abbey had her first litter in April 2019 with Tsar, and has also had a litter with Martin in 2020. She has shown us she is an outstanding Mother, we couldn't ask for anything more.
---
'Britannia Farms Cha- Ching' – Cha-Chi (Retired)
Cha-Chi is a 5 year old white standard Poodle, on the smaller side weighing 45lbs. Submissive and sweet as can be, a little shy but  loves her family. She also loves to play outside and run with Darby, her son with Martin – who we have here at Britannia Farms. Cha-Chi is OFA Good on hips and clear on elbows, and OFA heart and eyes are clear. Embark genetic testing is clear and negative for 172 other tests, including diseases common in Poodles,  VWF, prcd, DM, MH, CM, NEwS, MAC, OC and GM2.
Cha-Chi's first litter of Teddy Bear Goldendoodles with Tsar were heart melting, and her second litter with Martin were equally delightful. She has proved herself as an excellent and attentive Mother.
For results go to https://www.ofa.org/advanced-search?quicksearch=Britannia%20farms%20cha%20ching
---
Britannia Farms 'What a Kerfuffle'- Maddie
 Maddie is a beautiful AKC registered English Golden Retriever from our own Maggie, weighing around 60lbs. While Maddie passed her health testing, she has some environmental allergy issues and we have decided the responsible thing to do is not breed her. We are so sad, but we do not want to produce puppies with any potential issues.
---
Britannia Farms 'Mackenzie'
Introducing Mackenzie to our Goldendoodle Breeding Program. Mackenzie is a 70lb white Standard Poodle. She is fun and fast as the wind, and gets on with all of the ladies here. She loves to play fetch, and being groomed.
OFA prelim hips and elbows Good/Clear. DNA testing through Embark is clear for 172 genetic tests. Cardiac and eye testing through OFA is clear. She has passed all of her testing and we are looking forward to her first litter of standard Goldendoodles.
---
Britannia Farms "Maggie" (Retired)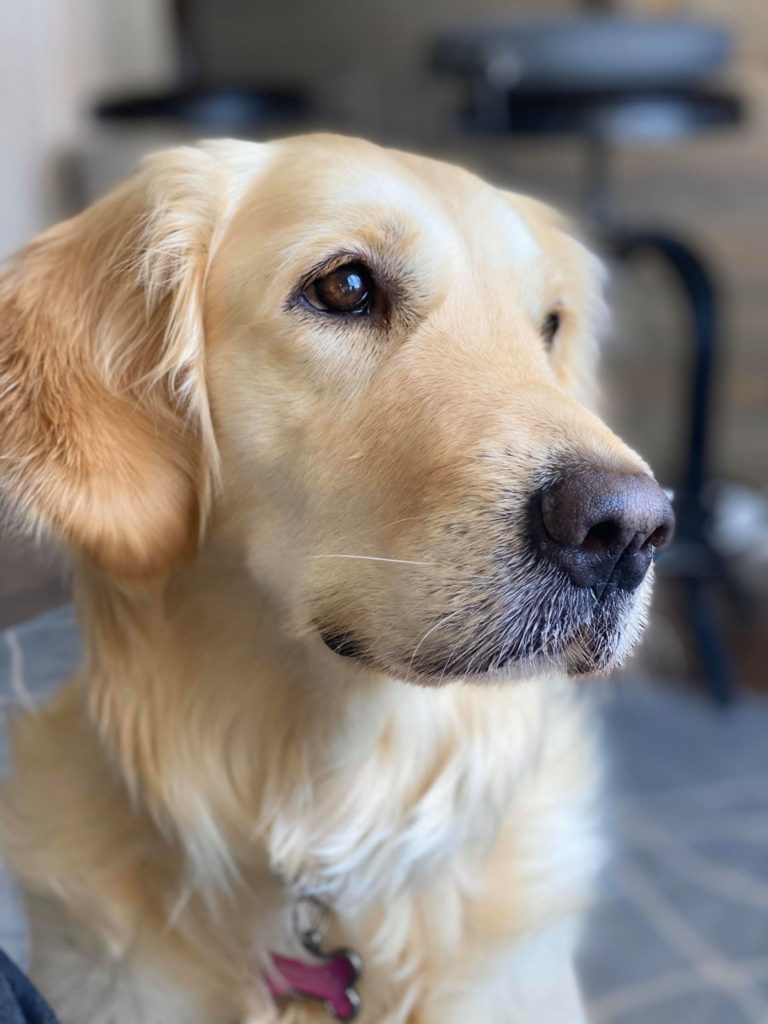 Please welcome beautiful Maggie to our breeding program. We thank 'A Golden Paradise', our friends in Florida for this opportunity. Imported from Ukraine, Maggie is an AKC registered and fully health tested English Golden Retriever. She is 4 years old, weighs 75lbs and is a registered Therapy Dog with the 'Alliance of Therapy Dogs' She loves everyone!
Maggie is a proven and wonderful mother, and she has recently delivered a litter sired by 'Benny', also from A Golden Paradise but originally one of our own pups from Marley and Tsar. We have come full circle.
---
Retired Ladies
Britannia Farms White Cliffs of Dover  'Marley' (RETIRED)
---
Britannia Farms Queen Bee – 'Zeva' (RETIRED)
---
Britannia Farms 'Ruby' (RETIRED)
---
Britannia Farms 'Sadie' (RETIRED)
---
Britannia Farms Weeping Willow – 'Willow' (RETIRED)
---
Britannia Farms 'Korra' (RETIRED)
---
Britannia Farms Daisy May – 'Daisy' – (RETIRED)
---
Britannia Farms 'Angie' – (RETIRED)
---
Britannia's Pride Miss Darcy – 'Darcy' (RETIRED)
---
Britannia Farms 'Zelda' (Kameliya Samiy Lutchiy Droug) – (RETIRED)
---
Britannia Farms 'Harlow' (RETIRED)
'Harlow' is imported from Ukraine, of Finnish descent. She has a thick cream coat and blocky head, and a beautiful expression. Harlow is our biggest female Retriever at around 90bs. She has a soft and submissive temperament, with a super affectionate personality. She is all about her humans! Harlow has passed health testing on hips, elbows, heart and eyes, she is PRA-1/PRA-2 neg, MD neg, Thyroid clear and ICT affected status. Harlow made some stunning puppies for us, and was an equally good Mother. Harlow is retired.
http://www.k9data.com/pedigree.asp?ID=690746
---